This project was carried out at the sewage pumping station on Swami Vivekananda Road in Mahim, Mumbai. VEMC, a leading dealer of industrial water pumps in Mumbai, was proud to have bagged and worked on the project.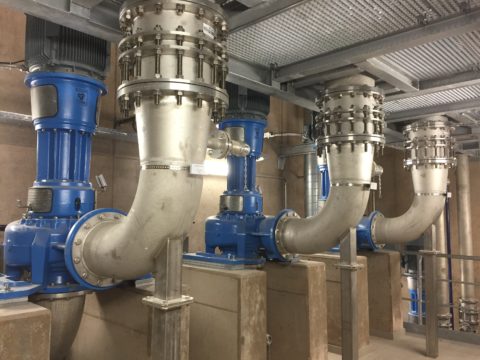 Nature of the Project
VEMC supplied vertical NK pump sets and valves to the MCGM Mahim Pumping Station. It also took over the successful supply, installation, testing, and commissioning of pump sets and associated valves.
Execution
The execution of this project happened in 4 stages:
Procurement of material from KBL and Jyoti
Pre-dispatch inspection of the motor in Gujarat, pumpset at KOV, and valves at Nashik in the presence of MCGM officials
Dispatch of materials to the site
Installation, testing, and commissioning of the installed system
Challenges Faced During the Project
The VEMC team faced quite a few roadblocks during the project:
The unloading phase was challenging. The unloading of material at the site was a bit difficult due to inadequate space for hydra. Moreover, the location was a high-traffic road and hence, a lot of intervention from the traffic police was required.
The installation location was 70 ft below the surface level. Hence, transporting the materials i.e., the pump and motors, to the location was not very easy.
Installation of valves in the existing pipelines because they were completely corroded.
Fabrication of duck foot bend from pump suction to the valve in CIDF.
During the delivery stage, dismantling the joint connections seemed a bit difficult due to space constraint and fitting issues.
How VEMC Overcame the Roadblocks
VEMC took proactive steps to ensure that the execution went smoothly. Here are the ways in which we overcame the challenges:
Completed the unloading work at night to avoid traffic issues
Closed penstock gates every night during the installation of suction valves. This was carried out efficiently even though it was difficult since sewage water was blocking the valve path.
Safety Measures Taken During the Project
VEMC ensured that the entire execution happened in adherence to all safety measures. To this end, all team members were provided with safety hand gloves and shoes.
Takeaways
Some major takeaways from the project were:
Execution planning and how to align the execution with the bar chart/methodology
Time management to ensure the project was closed within the stipulated time
Outcome of the Project
With VEMC's successful installation, the client experienced smoother operations as well as reduced maintenance needs and costs.
For more information on industrial pumps, motors, and other equipment, please contact us on +91 98199 07445. VEMC is ISO 9001:2015 certified and a pioneer in the field of electromechanical engineering products, allied equipment, and services. For inquiries, contact us at marketing@vemc.co.in.